SMS Marketing Features
Our SMS platform allows you to Send, Receive, Track and Analyse your text messaging campaigns. Here are some features of our SMS marketing,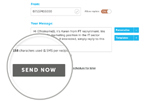 1. Send Messages:
You can engage with customers through SMS through our SMS platform. The easy-to-use online SMS software allows you to send SMS text messages from large-scale campaigns to single messages.

2. Scheduled Messages:
We understand that you're busy, so our awesome system lets you create messages when it suits you. Great for scheduling appointment or service reminders or even sending when you're away from the office. With a couple of clicks you can review your entire schedule and make instant updates. Scheduling a SMS text message is a doddle - in fact all it takes is a quick input of your chosen date and time.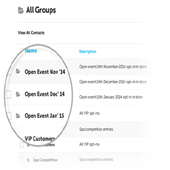 3. Manage Contacts & Groups:
Organise your data with ease. Contact list is the heart of your SMS marketing campaigns. You can easily upload your contacts in a .csv format, via a copy-and-paste or even through one of 3rd party integration partners. Segment your data with unlimited groups, view all your groups at a glance and easily send a campaign with a single click.

4. Delivery Reporting:
A full delivery report is available for every campaign, whether it's to a single number or multiple recipients. You can quickly view which numbers have successfully received your message and those that haven't - this will help you keep on top of your data and filter out the unused mobile numbers.

5. SMS Api:
You can easily connect your account with your own application or website. Our SMS API will give you the tools you need to send & receive SMS text messages, add new contacts and manage your account. You can connect into our SMS API using a simple HTTP POST. We've made it very easy to connect with us.